posted by Pauly
Pauly's Pickups of the Week
We all know that the four-headed monster in Philadelphia is awesome, that Ubaldo was unbelievable last season and Lincecum can compete for the Cy Young every year. What many drafters don't know are the pitchers you can get on the cheap in the end-game who can help solidify your chances for a championship run. To quote Lucky from his "
Building Your Auction Budget
" post:
"In most leagues, as much as 30% of the pitching value comes from pitchers who were not project
ed to have value when the year started, and who are not reserve picks
or free agents purchased during the season."
While this list is focused on National Leaguers, even mixed league fantasy players should be keeping an eye on these guys as the early season progresses. You may be looking at this year's Jaime Garcia, if you're fortunate.
Five Draftable Pitchers
(End-Game plays for your draft):
Brandon Beachy, ATL –
I will put him at the top because he is in the news: Beachy has officially won the fifth starter spot for the Braves over Mike Minor. I'm sure some Minor owner somewhere just kicked something, but their loss is your gain on draft day. There isn't a lot to go on here (Beachy only had a 3-game audition in Atlanta last season), but the converted reliever may give you Kris Medlen numbers (while they last). In 7 starts (45 IP) with AAA Gwinnett last season, Beachy struck out 48 to only 6 walks and had a 1.007 WHIP. Definitely worth a shot.
Kyle McClellan, STL –
Adam Wainwright's injured for the season, and McClellan will assume a role as the fifth starter going into the season. I have learned not to bet against Cards pitching coach Dave Duncan, so I won't. Take this with a grain of salt, but McClellan is tearing up spring ball – he has only given up 1 run in 17 innings with 11 strikeouts to 6 walks. Opponent batting average is .158. The real concern is whether he can hold up moving from the bullpen to a starting role, but heading into the season, this guy is screaming "C.J. Wilson 2010" at me…enough said.
James McDonald, PIT –
Wow, if
mlb.com is listing McDonald as the No. 1 starter
for the Pirates, I guess he won't be that well-kept of a secret. A former top Dodgers prospect, I like McDonald coming into the season after a hot finish to the season with Pittsburgh last year. His September ERA was 2.31 with 30K in 35 IP, so he is definitely starting to come around…so hopefully your league mates have written him off as yet another blah Pirates pitcher.
Anibal Sanchez, FLA –
The Marlins' fourth starter is probably slipping under the radar even in NL leagues with Josh Johnson, Ricky Nolasco and Javier Vazquez garnering the bulk of the attention. Sanchez managed to pitch a full season for the first time last season and responded with 20 quality starts out of 32 overall. But he was better after the break, with 86 strikeouts in 15 starts and a nice .239 opponent's batting average. Although it seems like he's been around, Sanchez is only 27 years old and on the rise.
Randy Wells, CHC –
The great luck Wells had in 2009 was turned on its head in 2010, and he had a 4.36 ERA and 1.40 WHIP to show for it. If you remember '09, you might recall Wells' 3.05 ERA and 1.27 WHIP in 27 starts. So what will we see in 2011? If spring training is any indication at all, Wells will be on the correct side of the numbers. He has a 1.35 ERA and a .164 opponent's batting average for the spring, and he looks primed and ready for the season as the Cubs' fourth starter.
Four "Keep and Eye on them" Players
(Guys that may be hot pickups in the first two weeks of the season if they start well):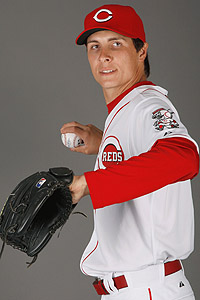 Homer Bailey, CIN –
Everyone who has been waiting on Bailey to finally do something (including the Reds) have been waiting for this season. Bailey is guaranteed a rotation spot...and we have seen him called up before. Will this time be different? Bailey's K/BB ratio has been improving over his career, and he took a big step forward in both departments last season. That might bode well for this year. The guy has been up and down in the bigs since 2007 and the Reds have no more options with him. It's this year or bust.
Aaron Harang, SD –
Now that he has escaped the clutches of Dusty Baker, will Harang dig his career out of the ditch it has been in? What helps is that he is moving away from the bandbox in Cincy to one of the top 5 pitcher's parks in San Diego. He will probably never strike out 200-plus guys like he did in back-to-back seasons in 2006-07, but he will put up respectable K totals and should get a little more luck in the ballpark.
Bud Norris, HOU –
If you are picking up a Houston Astros pitcher this coming season, dont expect a bunch of wins :) - however, Norris showed in his first full season last year that he can get you some really cheap Ks. If he can improve at all on that near-5 ERA and the 1.48 WHIP, he could become a nice specialist pickup in the early going if you are short on strikeouts.
Chris Narveson, MIL –
Much like Norris, Narveson is coming off his first full season and has shown potential with the strikeout. The difference is that Milwaukee used Narveson as a reliever briefly while Norris was always starting. This turns out to be a pretty big difference, as Narveson was a disaster as an RP (7.20 ERA in 9 innings of work). If you take that away, he was an 11-win pitcher (in 28 starts) with 130 Ks and a high 4 ERA. Make sure he stays on your radar.
IF YOU LIKE IT, SHARE IT!